Sustainability
Building a Better World
---
Our Environmental Policy
Trendway is committed to promoting sustainable work environments and business practices which balance sound economics, environmental protection, and social responsibility by incorporating the impetus of the Sustainability Guidelines of the Business and Institutional Furniture Manufacturers Association International (BIFMA) into our practices.
We routinely update our practices, and we intend to make consistent, measurable progress toward set goals and pursue them in all facets of our operations. We are committed to compliance with all applicable local, state and federal regulations and pursue the goal of becoming an increasingly sustainable company. We report our progress in the following key areas:
• Materials use and waste reduction, reuse and recycling
• Energy use reduction and reuse
• VOC and Greenhouse Gas Emissions reduction
• Toxic waste elimination

Energy

Emissions and Toxic Waste

Certifications

Material and Waste Reduction
ENERGY
Reducing Energy Usage
We've invested in converting our lighting to a state-of-art LED system, which has reduced energy use, while the superior illumination supports manufacturing quality and enhances employee safety. As part of the upgrade we introduced a new web-based Energy Management System with enhanced controls including sensors that respond to schedule, natural light and human occupancy.  In all, these changes are cutting our lighting-related energy usage by 85.77%, removing 1,589 kWHs from the grid per day. At the same time we were able to increase the number of task lights and dramatically improve the quality of lighting.
We also made other equipment investments that have yielded rewards. The new Wash component for our Paint operation uses significanly less energy than the one it replaced.  And our new high-efficiency Hi-Lo battery chargers create a faster, longer-lasting charge, for a net energy savings.
EMISSIONS AND TOXIC WASTE
Reducing Greenhouse Gases and Hazardous Substances
Because of our low level of VOC and Hazardous Air Pollutants, Trendway is designated "Conditionally Exempt Small Quantity Generator," by the EPA, which is the best rating a manufacturer like us can achieve. We continue to revise our processes and materials to reduce harmful emissions of every kind.
We have the attitude and policies in place to make sustainability part of every decision process. The helps us continue to find new a better ways to address the reduction of emissions and toxic waste.
CERTIFICATIONS
Third Party Endorsement
The Business and Institutional Furniture Manfacturer's Association (BIFMA) developed the ANSI/BIFMA e3 level® certification program to deliver the most open and transparent means of evaluating and communicating the environmental and social impacts of furniture products in the built environment. It is the third-party certification program for the furniture industry's multi-attribute, sustainability standard. It takes into account a company's social actions, energy usage, material selection, and human and ecosystem health impacts. Current certifications:
The SCS Indoor Advantage™ certification program, developed by SCS Global Services (SCS), certifies compliance with rigorous indoor air quality emission requirements.The program is designed for interior building materials, furnishings and finish systems. Because most people spend as much as 90% of their time indoors – at home, work or school – indoor air quality is an important issue for architects, designers and purchasers of interior building products and materials. Current certifications:
MATERIAL USE AND WASTE REDUCTION
Zero Waste to Landfill
In 2011 Trendway set the goal of sending zero waste from our facility to landfill. We met the goal in 2013 and have maintained the zero level from that time forward. The ANSI/BIFMA e3 level® certification process served to verify this remarkable accomplishment by awarding an additional point for the achievement.
This criteria is met in part through material waste reduction and through re-use and recycling initiatives.
Reuse
Recycled content
Regional materials
Rapidly renewable
Low-emitting materials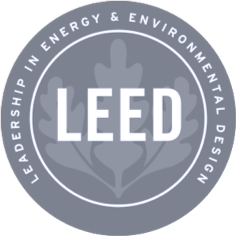 LEED POINTS CONTRIBUTION
Supporting Sustainable Design
Trendway products can contribute to LEED credit points in several categories. See our Environmental Product Sheets in the Resources section.
Carbon Disclosure Project
Trendway voluntarily participates in the global Carbon Disclosure Initiative (CDP), a project aimed at greater transparency around greenhouse gas emissions.
Hazardous Waste Reduction
Through continuous changes to products and processes, our Hazardous Waste generation has been reduced by nearly 80% since we began measuring in 2006.
VOC Emissions
Because of our low level of VOC and HAPs emissions, Trendway is designated "Not a Major Source", which is the best rating a manufacturer like us can achieve. We've been able to reduce VOCs by more than 60% since 2008.
More Sustainable Methods
We invested in a new Tog-L-Loc station to join metal components, instead conventional welding. Metal joined by this process uses a one-step die method to clinch two metal surfaces into a strong, durable bond without pre-treatment or welding materials, using less energy and emitting zero fumes.
Awards
West Michigan's Best an Brightest Companies to Work For 2019
Indoor Advantage® Gold Certified
Best and Brightest in Wellness 2017
Best and Brightest Sustainable Companies 2016
Neighborhood Environmental Partners
For more information, download the complete Corporate Sustainability report here.
Download Report