Trendway's New Seating Collection Makes it Easy to Come Together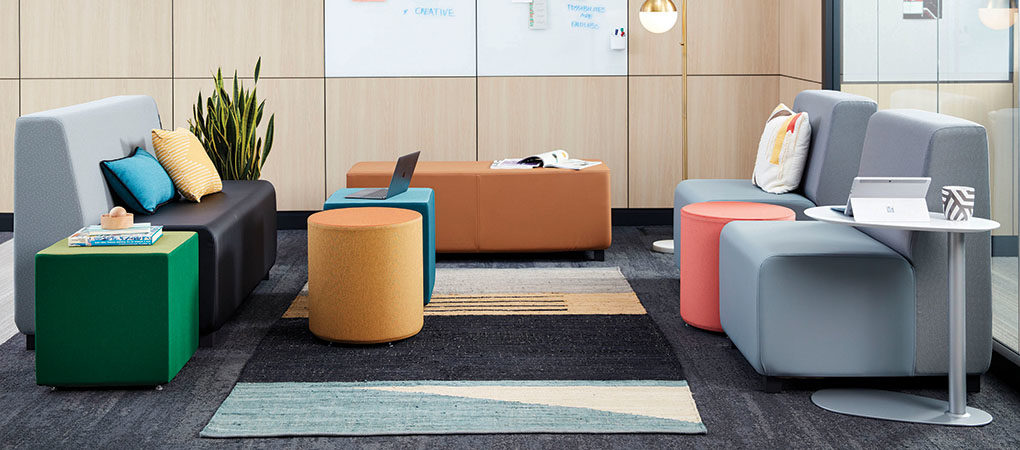 CHICAGO – June 10, 2019 – Trendway Corp., a Holland, Michigan-based, employee-owned office furniture manufacturer, announced the launch of the Parley Seating Collection; a new soft seating line that makes it easy to collaborate, talk and come to a meeting of the minds.  
 "Now more than ever, offices have to be flexible," said Mark Kinsler, Trendway of president. "With an inviting and vibrant color palette, comfortable sit and pieces that move effortlessly, Parley provides the freedom of flexibility and a solution for any office space."
Flexible and easily reconfigurable, Trendway's Parley Seating Collection includes: 
Sofa: Meetings run more smoothly with a sofa, comfortably seating two and fitting seamlessly in a variety of settings, like a café booth.   
Chair: Clean lines and minimalist touches make this a go-to chair in any environment.  
Bench: Parley bench can be approached from any angle and can be utilized as a tabletop or ottoman. 
Square: Available with optional casters, the Parley cube is an excellent fit for meetings on the fly. It also doubles as a side table. 
Round: A round shape and optional casters allow this accent to move freely with the needs of your office while doubling as a side table too. 
 Spaces ranging from waiting areas, lounges and open spaces, to semi-private and private offices can benefit from Parley's relaxed versatility. Parley can be used for formal and casual meetings, individual focused work or a place for people to hang out and relax. 
  "Knowing that offices are always in flux, Parley was designed so that each piece can be reconfigured at a moment's notice," said Kinsler. "It's competitive price point makes it an easy answer for the ever-evolving workplace."  
  Parley is featured in Trendway's Chicago showroom, located at 325 N. Wells St, directly across the street from the Merchandise Mart. 
 ### 
 About Trendway 
Trendway Corporation, an employee-owned company in Holland, Michigan, helps customers create beautiful and effective work environments with a wide range of furniture and architectural products. A company 50 years of exceptional performance, Trendway provides customers peace of mind through outstanding service, quality products, guaranteed delivery, and fast/flexible custom solutions.  The company offers many products including panel systems, filing, storage, casegoods, seating, and architectural solutions with moveable walls and glass storefront.  Trendway has served government customers as a GSA Contractor for more than 20 years.  Its products are tested for conformance to SCS Indoor Advantage™ or Indoor Advantage™ Gold requirements.  All of its products are tested for conformance to SCS Indoor Advantage™ or Indoor Advantage™ Gold requirements. All Trendway product lines, with the exception of seating, have been certified BIFMA e3 level ® level 2 by the NSF International.  For more information on Trendway, please call (616) 399-3900 or visit www.trendway.com.