Trendway Rolls Out New Dealer Experience Program at NeoCon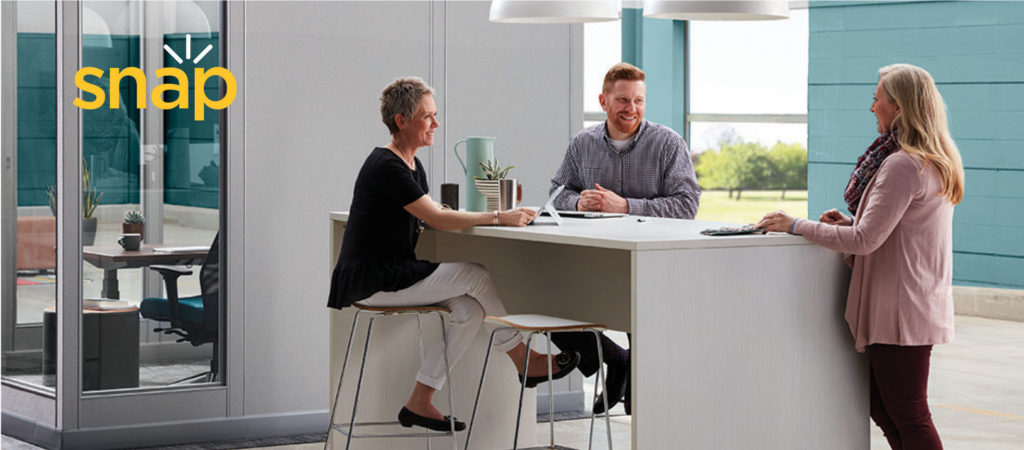 CHICAGO – June 10, 2019 – Trendway Corp., a Holland, Michigan-based, employee-owned office furniture manufacturer, announced the launch of Snap, a new dealer experience program that simplifies the intricate process of furnishing an office. Snap consolidates Trendway's most popular products and materials into easy-to-select options, saving customers time on planning, designing and ordering.   
 "When it comes to outfitting an office from front to back, the process can be complicated," said Mark Kinsler, Trendway president. "Snap is a simple solution to a complex process and exemplifies our brand promise of quality, speed and ease." 
 Snap's simple three-step process saves the customer time.   
(1) Select your space: Snap offers a variety of functional solutions for all types of office spaces.   
(2) Pick your package: Snap furnishings are strategically grouped around the way you work. 
(3) Choose your color: Select from a collection of palettes and finishes that are trending but classic. 
  "Our standard product-lead times are some of the fastest in the industry," said Kinsler. "With Snap, customers will enjoy the ease and time savings in the up-front planning process, getting back to new business opportunities faster." 
  While Snap provides a simplified planning, designing and ordering process, customers won't have to sacrifice customization.  The products and materials in the Snap program can be orderable individually. 
  Snap includes 330 SKU's to customize any space. From lounge and hospitality, training and collaborative areas to touchdown, semi-private and private office, Snap provides the flexibility to personalize any area easily. The program also offers team or group storage solutions and accessories to enhance the functionality of the products. 
About Trendway 
Trendway Corporation, an employee-owned company in Holland, Michigan, helps customers create beautiful and effective work environments with a wide range of furniture and architectural products. A company with 50 years of exceptional performance, Trendway provides customers peace of mind through outstanding service, quality products, guaranteed delivery, and fast/flexible custom solutions.  The company offers many products including panel systems, filing, storage, casegoods, seating, and architectural solutions with moveable walls and glass storefront.  Trendway has served government customers as a GSA Contractor for more than 20 years.  Its products are tested for conformance to SCS Indoor Advantage™ or Indoor Advantage™ Gold requirements.  All of its products are tested for conformance to SCS Indoor Advantage™ or Indoor Advantage™ Gold requirements. All Trendway product lines, with the exception of seating, have been certified BIFMA e3 level ® level 2 by the NSF International.  For more information on Trendway, please call (616) 399-3900 or visit www.trendway.com.