Trendway products added to new BIFMA Compliant registry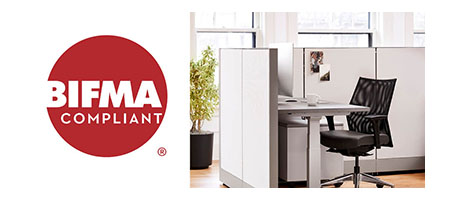 HOLLAND, Mich. – March 1, 2021 – Trendway today announced that 15 of its products have been certified as BIFMA Compliant. Launched on March 1, 2021, the new BIFMA Compliant registry is an industry-wide list of furniture products that meet the rigorous BIFMA performance, safety and sustainability standards. Trendway's BIFMA Compliant products include seating, systems, casegoods and storage and desks and tables.
"Many of Trendway's newest and most popular products attained the BIFMA Compliant certification," said Rob Day, executive vice president of customer experience, Fellowes Contract Interiors.  "Trendway will continue adding to the BIFMA compliance list as we complete additional testing and introduce new products."
To secure the BIFMA Compliant marks, Trendway worked with an independent ISO (International Organization for Standardization) 17025 accredited lab testing BIFMA specifications ranging from safety and performance to durability.
The BIFMA Compliant program supports specifiers searching for trusted products by assuring confidence in recommendations and simplifying the verification process. For end-users, the certification reduces risk, improves employee safety and productivity and ensures product quality and performance.
BIFMA is the not‐for-profit trade association for business and institutional furniture manufacturers. The BIFMA Compliant registry is available at https://www.bifma.org/mpage/bifma-compliant-registry.
###
About Trendway 
Located in Holland, Michigan, Trendway Corporation is part of the Contract Interiors division of Fellowes Brands, and helps customers create beautiful and effective work environments with a wide range of furniture and architectural products. A company with over 50 years of exceptional performance, Trendway provides customers peace of mind through outstanding service, quality products, guaranteed delivery, and fast/flexible custom solutions. For more information on Trendway, please visit www.trendway.com.
About Fellowes Brands
Celebrating its 103rd year under the private ownership and executive leadership of the Fellowes family, Fellowes Brands is a global leader of broad-based business solutions which help professionals be their best and feel their best. Headquartered in Itasca, Illinois, USA, Fellowes Brands operates from 24 locations across the globe. For more information, please visit: www.fellowesbrands.com.