Trendway opens new showroom in Washington D.C.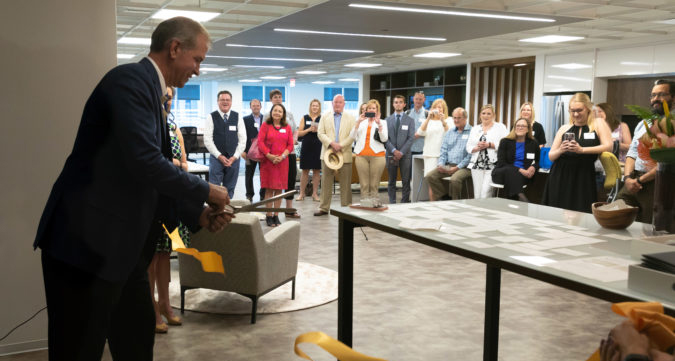 WASHINGTON D.C. – July 26, 2018 – Trendway Corp., a Holland, Michigan-based, employee-owned office furniture manufacturer, has opened a new Washington D.C. showroom at 1625 N Eye St. NW suite 802.  The opening of the 6,000-square-foot showroom marks the completion of a move from its former showroom at 1201 New York Ave NW, Washington, DC 20005, which the company occupied for more than seven years.  Trendway's design team collaborated with Washington D.C.-based OTJ Architects to complete the project.   
"Washington D.C. is a key region for our continued growth in the public-sector market," said Mark Kinsler, Trendway president.  "We look forward to fully utilizing the space to help our clients visualize new environments and architectural applications that will simplify the process of creating beautiful workspaces."  
The new space utilizes an open floor plan with multiple workspace applications including a touchdown station, informal meeting space, team benching station, associate and private offices, team workspace, large and small conference rooms, social hub, and a new Architectural Product Design Center, which showcases Trendway's full line of movable walls. 
"For 50 years, Trendway's interior architectural walls have provided solutions around the world," said Kinsler. "The hands-on Architectural Product Design Center speaks to our product strengths and history in the category."  
Trendway celebrated the soft opening of its new showroom with over 150 clients and guests in May.  Visitors enjoyed the rooftop deck with views of the White House and Washington Monument.   
The building also includes a large atrium entrance with premium restaurants attached.  
Images of Trendway's Washington D.C. showroom are available at https://www.trendway.com/showrooms/dc/.  
About Trendway 
Trendway Corporation, an employee-owned company in Holland, Michigan, helps customers create beautiful and effective work environments with a wide range of furniture and architectural products. A company with 50 years of exceptional performance, Trendway provides customers peace of mind through outstanding service, quality products, guaranteed delivery, and fast/flexible custom solutions.  The company offers many products including panel systems, filing, storage, casegoods, seating, and architectural solutions with moveable walls and glass storefront. Trendway has served government customers as a GSA Contractor for more than 20 years. Its products are tested for conformance to SCS Indoor Advantage™ or Indoor Advantage™ Gold requirements.  Many Trendway product lines have been BIFMA e3 level® 1 or level® 2 certified by the NSF International.  For more information on Trendway, please call (616) 399-3900 or visit www.trendway.com.