Trendway Launches New Augmented Reality App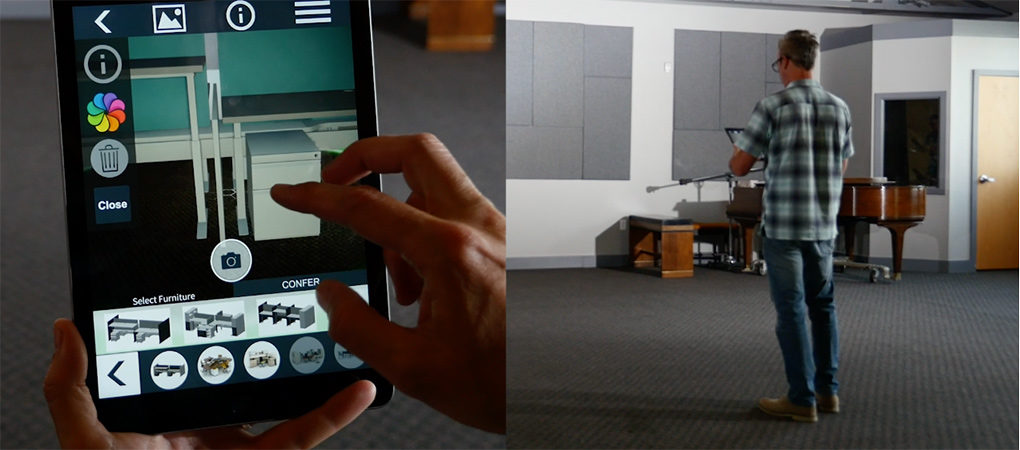 CHICAGO – June 11, 2018 – Trendway Corp., an employee-owned office furniture manufacturer, today announced the launch of The Trendway AR app, a new augmented reality space planning mobile application. The Trendway AR app allows users to digitally add furniture products into a real-world space using the user's smartphone camera. Through their mobile device, the user digitally inserts furniture from the library. They can place 3d furniture objects anywhere in the space… rotate, change color or fabrics, add multiple products and see an accurately scaled photo-realistic representation of how the product will look like in the space.
"Leveraging emerging technology like augmented reality allows us to progress the way our designers and customers experience physical spaces, which, in turn, allows them to make more informed decisions," said Trendway president Mark Kinsler.
Trendway is partnering with Grand Haven, Michigan-based Th3d Coast Media Solutions to leverage the app as a sales training tool for its more than 300 dealers across the US.
"Augmented reality is changing the way we can view the physical world. That you can bring your entire furniture portfolio with you to your customer's site and allow them to see the product within their space… in real time…is a really powerful selling tool," said Th3d Coast Media Solutions Jeff Joanisse.
Multiple Trendway product lines are currently available in The Trendway AR app, including Volo wall, Confer benching, Capture, and Choices systems product lines. However, Trendway plans to integrate its full product offering throughout 2018.
The Trendway AR app will be available for downloaded from the Apple Store and Google Play.
Watch the AR Demo Video
Download the Free App
Apple or Google Play
About Trendway
Trendway Corporation, an employee-owned company in Holland, Michigan, helps customers create beautiful and effective work environments with a wide range of furniture and architectural products. A company with 50 years of exceptional performance, Trendway provides customers peace of mind through outstanding service, quality products, guaranteed delivery, and fast/flexible custom solutions.  The company offers many products including panel systems, filing, storage, casegoods, seating, and architectural solutions with moveable walls and glass storefront. Trendway has served government customers as a GSA Contractor for more than 20 years. Its products are tested for conformance to SCS Indoor Advantage™ or Indoor Advantage™ Gold requirements.  Many Trendway product lines have been BIFMA e3 level® 1 or level® 2 certified by the NSF International.  For more information on Trendway, please call (616) 399-3900 or visit www.trendway.com.