Trendway Extends It's Building Back Program in Response to Hurricane Michael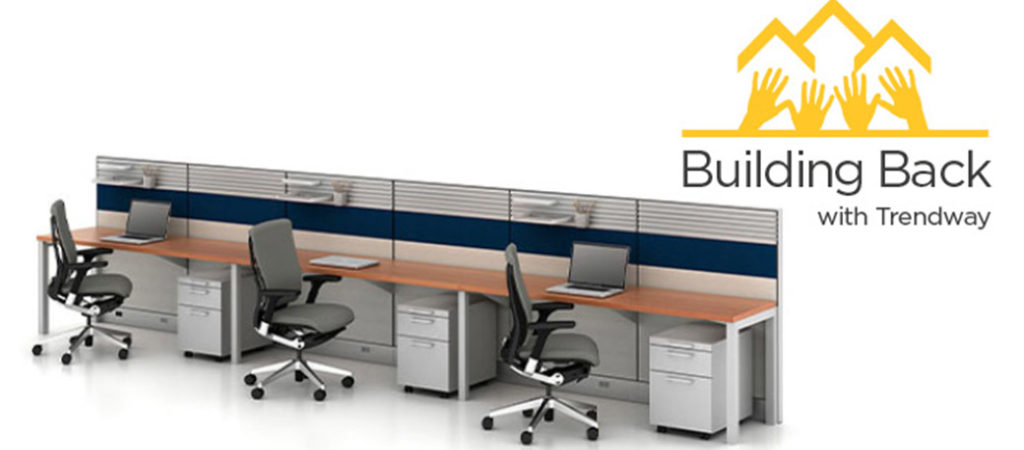 HOLLAND, Mich. – October 18, 2018 – Trendway Corp.  In response to hurricane Michael, a catastrophic event that hit the Gulf Coast region of Florida, Trendway announces that it will be once again offering its Building Back program to all customers impacted by this recent disaster.   
 Building Back, provides special pricing discounts and express delivery terms to ease the burden many will be facing in recovery and rebuilding.  The offering includes a broad selection of furnishings and products that will allow customers to receive a shipment within a week of placing an order with exclusive pricing. 
 "The destruction our customers and business partners are dealing with is overwhelming and we want to do everything we can to ease the frustration of rebuilding and help them quickly get back to business", said Mark KInsler, Trendway President.  
 This program will be available effective immediately until December 31, 2018 to all customers affected by these events.
### 
About Trendway 
Trendway Corporation, an employee-owned company in Holland, Michigan, helps customers create beautiful and effective work environments with a wide range of furniture and architectural products. A company with 50 years of exceptional performance, Trendway provides customers peace of mind through outstanding service, quality products, guaranteed delivery, and fast/flexible custom solutions.  The company offers many products including panel systems, filing, storage, casegoods, seating, and architectural solutions with moveable walls and glass storefront. Trendway has served government customers as a GSA Contractor for more than 20 years. Its products are tested for conformance to SCS Indoor Advantage™ or Indoor Advantage™ Gold requirements.  Many Trendway product lines have been BIFMA e3 level® 1 or level® 2 certified by the NSF International.  For more information on Trendway, please call (616) 399-3900 or visit www.trendway.com.