New Premier Contract Awarded to Trendway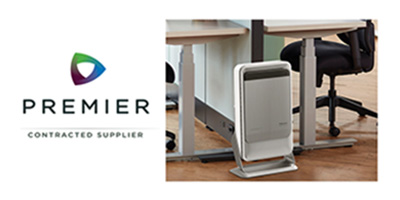 HOLLAND, Mich. –August 16, 2021 – Trendway, a Fellowes Contract Interiors brand, today announced it has been awarded a group purchasing agreement with Premier, a leading healthcare improvement company, uniting an alliance of approximately 4,100 U.S. hospitals and 200,000 other providers to transform healthcare. Effective September 1, 2021, the agreement allows Premier members, at their discretion, to take advantage of special pricing and terms pre-negotiated by Premier for all Trendway AeraMax Pro products.
Fellowes AeraMax Pro air purifiers were demonstrated through independent laboratory testing to be effective in reducing aerosolized airborne concentration of Human Coronavirus 229E in a test chamber, reaching 99.9% airborne reduction within one hour of operation.
"The Premier group purchasing agreement is a tremendous opportunity for our dealers to expand their relationships further into the rapidly growing healthcare market segment," said Mark Rhoades, president, Fellowes Contract Interiors.
With integrated data and analytics, collaboratives, supply chain solutions and advisory and other services, Premier enables better care and outcomes at a lower cost.
"Trendway looks forward to creating better places for essential healthcare workers to work and helping Premier member organizations lower supply chain costs and improve operating efficiencies," Rhoades said.
If you have any questions about the agreement, please contact Amy Maxey at AMaxey@fellowes.com or 812.661.0599.
###
About Trendway
Located in Holland, Michigan, Trendway Corporation is part of the Contract Interiors division of Fellowes Brands, and helps customers create beautiful and effective work environments with a wide range of furniture and architectural products. A company with over 50 years of exceptional performance, Trendway provides customers peace of mind through outstanding service, quality products, guaranteed delivery, and fast/flexible custom solutions. For more information on Trendway, please visit www.trendway.com.
About Fellowes Brands
Celebrating its 103rd year under the private ownership and executive leadership of the Fellowes family, Fellowes Brands is a global leader of broad-based business solutions which help professionals be their best and feel their best. Headquartered in Itasca, Illinois, USA, Fellowes Brands operates from 24 locations across the globe. The Fellowes Contract Interiors division strategically unifies three brands, Trendway, ESI and AeraMax Professional, to be sold through a single contract furniture division. For more information, please visit: www.fellowesbrands.com.