Don Heeringa Sponsors a Service Dog Through K9s for Warriors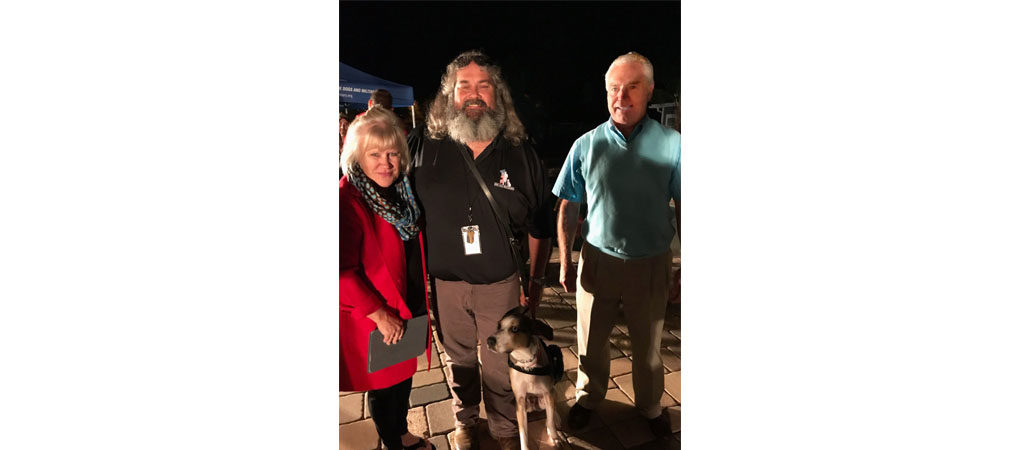 Trendway Chairman and CEO Don Heeringa (right) and his wife Jodi (left) recently attended the graduation ceremony for their sponsored K9s For Warriors dog, Bo, and veteran Bradford (middle). K9s For Warriors is an organization dedicated to training and providing service dogs for our veterans suffering from Post-Traumatic Stress Disorder. In addition to being faithful companions, these dogs are trained to empower veterans as they return to civilian life.
"Since inception, K9s For Warriors has helped save 378 warriors and 815 dogs"
Heeringa has been involved with K9s For Warriors since 2015, after hearing about the program in an advertisement during a golf event. An announcer in the event told the story of his brother-in-law's struggle with PTSD and how they trained a dog to assist him. Having a trained support dog improved the veteran's happiness and overall quality of life. This inspired the family to create K9s For Warriors. Heeringa so was moved by the story, he immediately planned a tour of the Florida facilities for later that Spring. After the tour, Heeringa states that he felt compelled to contribute to the organization's efforts and decided to sponsor a dog.
Save a Dog, Save a Warrior
K9s For Warriors does not just save veterans, the organization saves neglected dogs as well. Most of the dogs come from shelters throughout the South Eastern United States. The dogs are rescued and receive professional training for six months before spending three weeks bonding with their veterans in the real world.
Once training is complete, sponsors, trainers, canines, and veterans all come together for the graduation ceremony. This is the first-time sponsors such as Heeringa have the opportunity to meet their sponsored dog and warrior. "It's a joyous occasion, but I can assure you, a very emotional one as well," he states. Heeringa is always eager to meet the warriors and dogs that the organization saves, and hopes to sponsor another dog in the future.
As a US veteran himself, Heeringa is personally invested in supporting our veterans and active military men and women throughout the year. K9s For Warriors in particular is very dear to his heart, "We owe these veterans a huge debt of gratitude for their sacrifices, and the support of this worthy program is one small way we can help."